Story of F-BGNJ

Lockheed Super Constellation L-1049 registered F-BGNJ, serial number 4519, was delivered to Air France on November 2nd 1953. It is currently the last one of 24 Air France Connies still in the country, undergoing a complete restauration for static display as a historical monument.
F-BGNJ began a worldwide journey flying celebrities and others who could afford air travel on November 15th, from Paris to Buenos Aires, New York, and later Pointe à Pitre, Pnom Penh, Caracas and Tokyo, to name a few.
It was upgraded to a L-1049 G in 1956 and kept on circling the world until August 8th 1967, having totaled 24,284 hours under Air France's colors. The aging Connie is discarded from the fleet and sent to Spain, to be registered EC-BEN.
It briefly flies humanitarian and medevac missions in Biafra, a precursor of « Aviation sans frontière » that appeared later.
Air Fret buys it in 1968, brings it back home to France to have it registered as F-BRAD and operates it on cargo hauls until 1974, when the Constellation lands Nantes one last time, bound to be cut in pieces and sold for scrap.
It is ultimately saved by Mr Gaborit, who revamps it somewhat by his own modest means to finally park it near the terminal, accessible to visitors for a few years, until the Chamber of Commerce and Industry of the Nantes-Atlantique Airport bought it, to contract our association to undergo a complete restauration of the old ship.
Text Source: http://superconstellation-nantes.fr
Source: http://rzjets.net/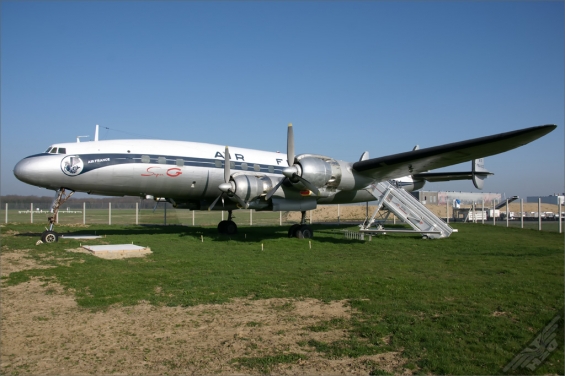 Thanks André Cottenceau for the photo!